The 1984-85 Cowboy Wrestling team finished with an 8-3 dual record and won the Western Athletic Conference and Mountain Intercollegiate Wrestling Association championships. They crowned six conference champions – Bill Hodges, Scott Rardin, Scott Chipperfield, Mike Hamel, Ron Whitman, and John Bragg. Qualifying six wrestlers for the NCAA Tournament, the Cowboys finished 52 nd overall nationally. The 1985-86 team finished 7-0-1 and was ranked 9 th in the country. The Cowboys also won the WAC and the MIWA and featured six conference champions – Mike McNaney, Mike Hamel, Brian Wilson, Joe DeCamillis, John Bragg, and Jon Cogdill. With six qualifiers, they tied for 32 nd at the NCAA Tournament.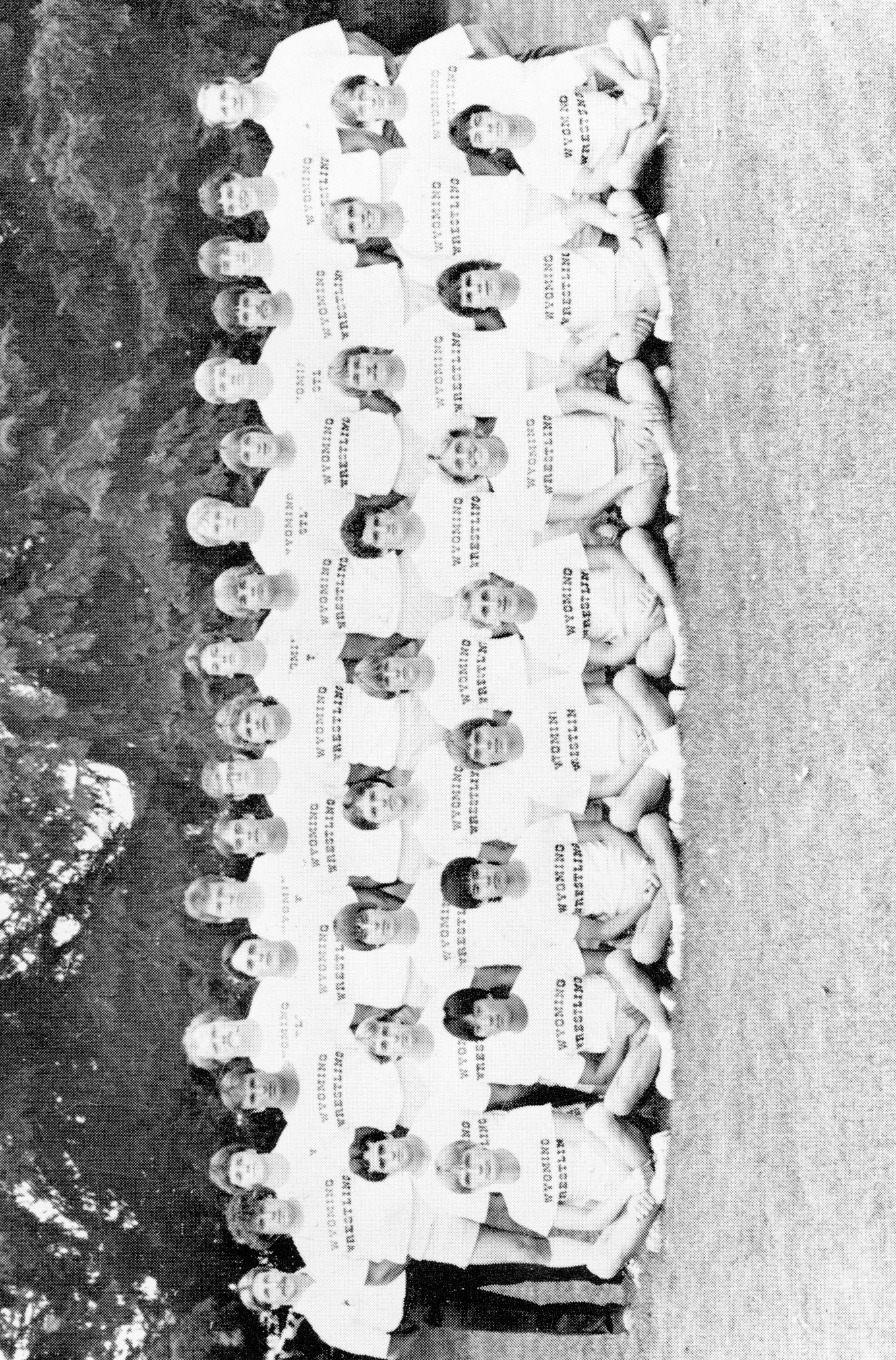 1984-85 Wyoming Cowboys
1 st row: Steve Chastain, George Hara, David Shin, Brian Woods, Bill Stults, Scott Chipperfield, Hank Roney, Tawn Argeris.
2 nd row: Mike McNaney, Joe Robinson, Clint Proffit, Brian Sidwell, Andy Bell, Chad Taylor, Lonnie Currier, Sam Nuckolls, Dave Field.
3 rd row: Jim Blackwell, Ron Whitman, John Bragg, Bryan Wilson, Nick Metzler, Danny Jackson, Greg Bell, Shawn Perry, Mike Hamel.
4 th row: Assistant Coach Marvin Gasner, Joe DeCamillis, Bill Lingenfelser, Gordon Knopp, Dean Finnerty, Pete Park, Jim Skovgard, Jay Meyer, Scott Rardin, Head Coach Joe Dowler.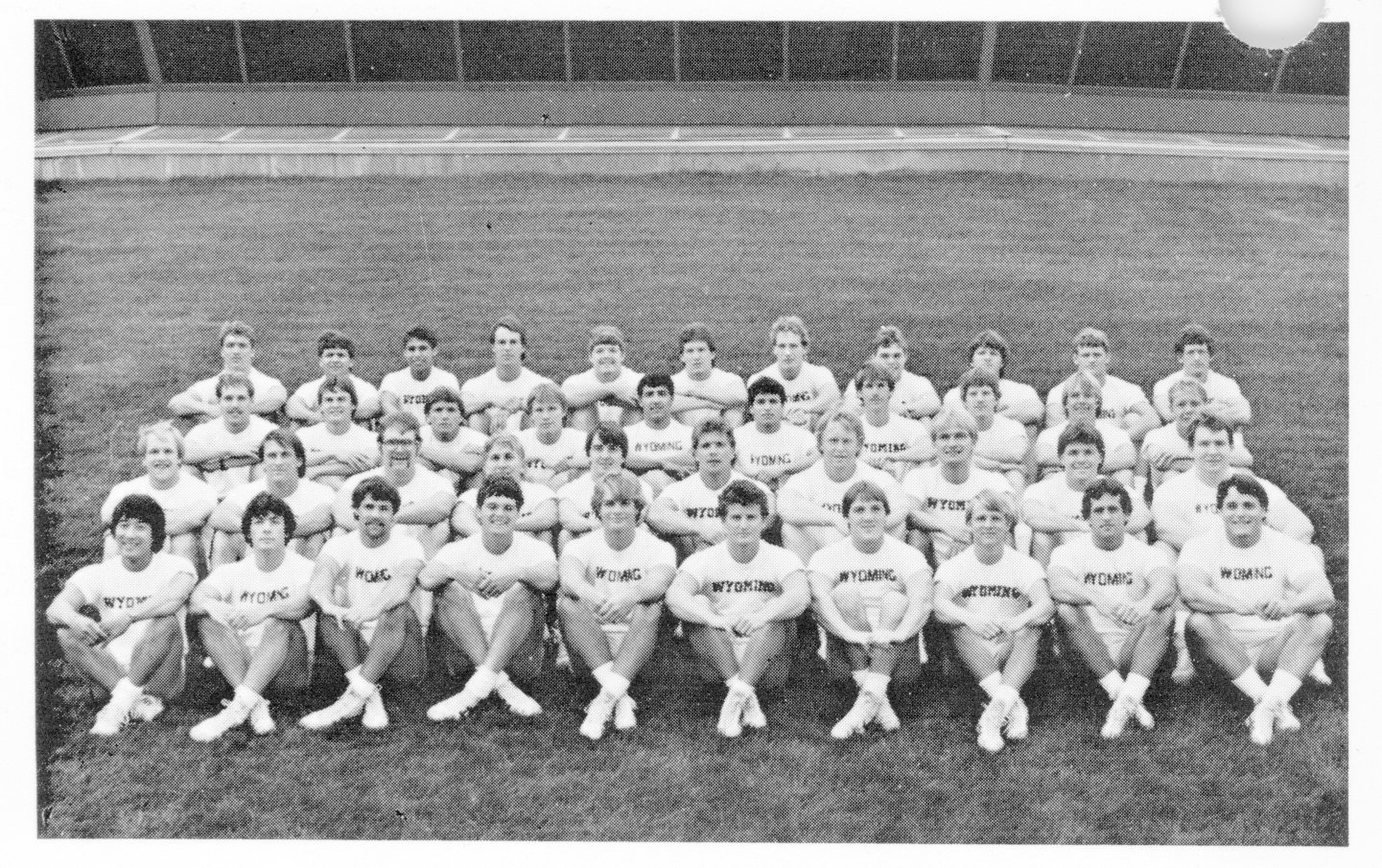 1985-86 Wyoming Cowboys
1 st row: George Hara, Tawn Argeris, Shawn Perry, Mike Hamel, Dan Jackson, Chad Taylor, Greg Bell, Andy Bell, Mike McNaney, John Bragg.
2 nd row: Mike Williams, Bryan Wilson, Dean Finnerty, Bill Stults, Scott Rardin, Mike Beck, Jim Skovgard, Steve Chastain, Joe DeCamillis, Gordon Knopp.
3 rd row: Dale Patterson, Troy Doughman, Craig Walters, Scott Ruff, Will Romero, Danny Montez, Don Julian, Lary Long, Todd Taylor, Chris Tognoni.
4 th row: Mark Voloshin, Ralph Campana, Joe Mejia, Brian Spaulding, Troy Lake, Greg McClure, Brad O'Melia, Bill Peters, Denny Childs, Duncan Irvine, Lyle Richardson.