1968-69 WAC CHAMPION MEN'S BASKETBALL TEAM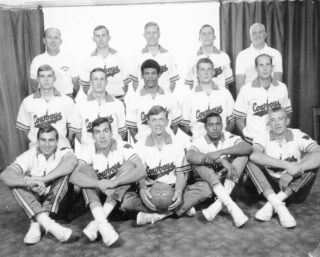 Coached by Bill Strannigan, the 1968-69 Cowboy Basketball team tied for the Western Athletic Conference championship with an overall record of 19-9 and a conference record of 6-4. The Cowboys led the league in team defense in conference play, allowing 72.1 points per game. Selected to play in the National Invitation Tournament in Madison Square Garden, they faced a tough Army team in the first round, and fell 51-49 in a hard-fought contest. The team featured all-conference first-team players Carl Ashley and Harry Hall, and second-team all-conference honoree Stan Dodds. Others on the team were Eli Bebout, Terry Childers, Steve Eberle, Bill Lazzeri, Steve Mountjoy, Steve Popovich, Brad Smith, Gary von Krosigk, Bob Wilson, and Roy Wilson. Bill Purden served as the assistant coach.
1968-69 Men's Basketball Team
1 st row: Eli Bebout, Steve Popovich, Gary von Krosigk, Carl Ashley, Stan Dodds.
2 nd row: Terry Childers, Bill Lazzeri, Harry Hall, Brad Smith, Steve Mountjoy.
3 rd row: Assistant Coach Bill Purden, Steve Eberle, Bob Wilson, Roy Wilson, Head Coach Bill Strannigan.